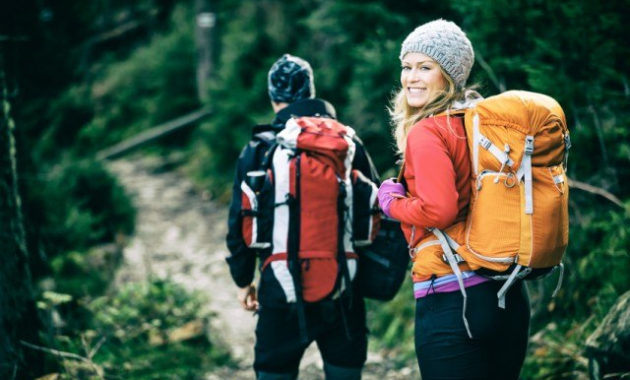 Trekking is an outdoor activity that can be enjoyed in different ways, depending on the terrain and your fitness level. There are different types of trekking – day trips, backpacking over multiple days, thru-hiking a long-distance trail – and each has its own specific set of clothing and gear requirements. Whether you're a seasoned hiker or trekker or just getting into outdoor fitness, it's important to have the right gear to make your experience as safe and enjoyable as possible.
In this blog post, we'll be exploring some of the top clothing and lifestyle accessories that are perfect for hi-tech trekking. From versatile backpacks and shoes to performance-enhancing clothes, we've got everything you need to know to kit yourself out properly. Please keep reading for our expert tips on what to buy!
Before you start searching for your next adventure, it's a good idea to check if you've got the right gear for outdoor life. This means checking that all of your equipment is in good condition and up-to-date with the latest features, from waterproof coatings on jackets to artificial insulation on sleeping bags.
We'll be tackling the importance of footwear first, as this is often used as a comparison point by many hikers and trekkers. How much do you need? What should you invest in? Do you need an alternative if the weather conditions are poor?
1. Quality Hiking Shoes
Hiking boots will protect your feet from rocks, debris, and other impacts that might arise while hiking or trekking through difficult terrain. They also help prevent blisters from forming by providing a good amount of padding to protect your feet against rub marks. Look for lightweight boots with plenty of ventilation to keep your feet cool and avoid suffocation when it's hot outside, even if that means sacrificing some protection. There is no one boot that can do both things well, so consider this when making your purchase decision. Many brands offer different levels of durability depending on how much you're willing to spend. However, each should come with adequate ventilation (more than enough to prevent suffocation) for your enjoyment.
2. Trekking Poles
If you're going on a hike with long approaches, you might want to consider one of the new-age trekking poles that offer some awesome features. These have become extremely popular in recent years due to their comfort and efficiency factor, especially among hikers who need something sturdy for carrying heavy bags. The Black Diamond Trail Ergo Cork Poles are made from ultralight aluminum shafts not to weigh you down. They also have cork grips for comfort, which can be easily removed when not needed.
Click here to explore the best trekking clothes and accessories for you!
3. Day Pack/ Waist Pack
While most hikers prefer to use a backpack, many trekkers love to bring along a day pack or waist pack for personal items that they might need quick access to throughout the journey, such as an ID/credit card, sunglasses, and other miscellaneous essentials. This is also an excellent accessory for those who like to bring their camera with them and don't want it swinging around while they're on the go.
A Lightweight yet high-quality belt will have you covered for all your outdoor adventures – from hiking in the mountains to exploring the trails at your local park! It is even better if it is water-resistant and has strategic padding for comfort (the padded section goes behind the hip bones) and extra loops designed for attaching gear such as carabiners and water bottles.
4. Trek-friendly Backpack
What you need is a versatile tech-friendly backpack that fits 15.6″ laptops – great for both school and work. Should weigh less than 3 pounds and include an internal frame sheet to provide additional support during your trips. A mesh on the back of the bag will facilitate ventilation so that you stay cool on those hot days. This backpack should also function as an Ideal overnight bag or small weekender bag with its zippered pockets and compartments.
5. Weatherproof Jacket
A high-quality weatherproof jacket that protects against wind, rain, and snow! The material is lightweight yet durable enough to handle some moderate abuse, such as abrasion from shoes or rocks. Drawstrings at the waist and hem help you adjust for a perfect fit, while reflective piping adds visibility when you are out in low-light conditions.
6. Fleece Hoodie
It is a versatile fleece hoodie that can be used as either year-round mid-layer insulation or on its own during warmer days! The material is reasonably breathable to prevent overheating even during extended periods of strenuous activity. A large internal pocket makes it easy to stow away some smaller items like gloves, headlamps, snacks, etc., without having to carry an extra bag around with you.
7. Lightweight Binoculars
A lightweight yet durable pair of binoculars that's small enough to carry around wherever you go! Ideal for hiking where spotting scopes are too big to pack along – just throw the binoculars in your pack, and you'll have a lightweight yet powerful tool to spy that sunset from the top of the mountain quickly you're climbing!
8. Head Warmers Are Essential
Keeping your head warm is essential when hiking or trekking – especially during those chilly early morning starts, where frost has settled on everything around you! These caps are made with 100% acrylic to keep out rain and snow while still being breathable enough not to overheat your head if worn indoors.
A cozy neck warmer that can be folded up into a beanie, worn around your neck, or even used as a balaclava.
9. Ponchos
A must-have for rainy days – these lightweight ponchos pack down into next to nothing, so they don't take up any space in your bag. They're incredibly water-resistant and suitable for a wide range of temperatures – making them perfect for an umbrella replacement!
10. Trekking Clock
Lightweight, durable and waterproof, this watch ticks all the boxes for the perfect timepiece while you're exploring the mountains. And it's got some great features that make it really practical for hikers – like an alarm clock, backlight, and countdown timer!
11. Lightweight LED
These lightweight LED lights pack up so small they won't take up any space at all in your bag until you need them. You can just strap one around your wrist or ankle before you set off and then hook it to your bag for the walk back – it even has a red 'flash' alert setting, so you're visible from behind!
Conclusion
When it comes to trekking, you are only as good as your tools! Not only will some of these tools prove to be life and time-saving, trekking accessories ensure a fulfilling and worthwhile trekking experience that rejuvenates your soul.
With these tools, not only are you a man on a mission, but also a guide to other fellow hikers who lose their path along the way!