Garden-themed weddings are perfect for nature lovers who want to spend their special day in the heart of the forest or by the sea. This type of wedding is also perfect for couples who want to celebrate their love surrounded by their closest family and friends. They are becoming very popular, so it's time to start thinking about stylish dress inspiration.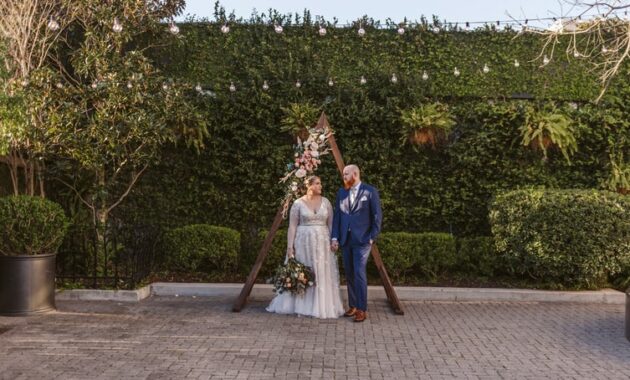 If you are planning a garden-themed wedding, there are a few things you need to take into account. The most important thing is the location – make sure it suits your theme. If you're getting married by the sea, you will need to choose a dress with a flowing skirt and light fabrics. If you're getting married in a forest, you can wear anything from a simple sundress to a more elaborate gown with lace and flowers.
In terms of style, there are many different options to choose from. You can go with a classic look, but you can also wear something more fun and modern. It all depends on your personal taste and the style of the location – for example, if you're getting married in a church, don't wear short dresses or casual shoes.
If you are looking for inspiration for your garden-theme wedding, then you have come to the right place. We've collected some of the best gowns that could work for a bride who wants something simple yet elegant.
If you want to go the route of a long, flowing dress but still have flowers all over it, then consider a linen gown. Linen dress are perfect for summertime weddings in the garden because linen is light, breathable, and linen dresses are usually loose-fitting. This means that linen dresses will help keep you cool while looking stunning.
A flowing chiffon gown with a sweetheart neckline is perfect for a garden-themed wedding. The light and airy fabric will flow in the breeze, and the sweetheart neckline will show off your décolletage.
If you want something with a bit more of a vintage feel, then consider a tea-length dress with a handkerchief hem. This style of dress is perfect for flattering any figure and looks great paired with flats (or even heels if your garden isn't too overgrown).
If linen is not your style but you still want to go with a dress with an airy feel, then consider a sheath gown in chiffon or silk. These fabrics will move beautifully in the wind and look light and ethereal, perfect for a garden-themed wedding.
Finally, if you are looking for a more formal gown to wear in a garden-themed wedding, consider a lace dress. Lace dresses have a timeless elegance about them and look beautiful in any setting.
No matter what location you choose, it's also important to think about the season. If you're getting married in the spring or summer, light colors and fabrics are perfect. If you're getting married in the fall or winter, darker colors and heavier fabrics will be more appropriate.
If you want to make sure that your dress will match your chosen location, just think about color. Darker colors are perfect for more formal weddings, while lighter colors will look better in the forest or on the beach.
No matter what type of dress you choose, make sure to accessorize appropriately. A great way to do this is with a floral headpiece or veil. Not only will this add to the overall garden theme of your wedding, but it will also make you stand out from the crowd.
Whatever type of dress you choose, make sure to have fun with it and let your personality shine through. After all, it is your wedding day, and you should wear what makes you feel the best!
We hope that this article has provided some inspiration for your upcoming garden-themed wedding. If you are looking for wedding dresses in cleveland, you should visit radiantbridecle.com. Happy planning!