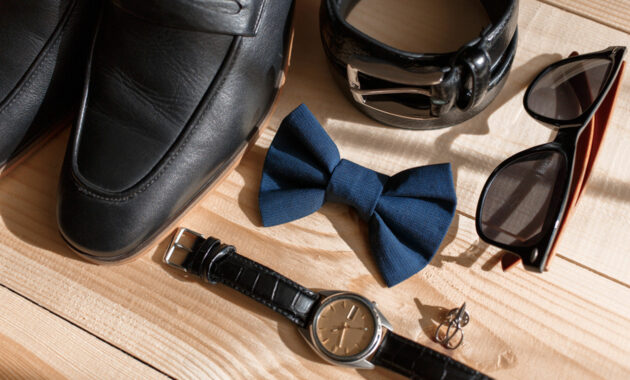 Nowadays, many men pay attention to their wardrobe as well as the tiniest details, including fashionable and eye-catching accessories. Just like other items chosen by men, accessories help them to emphasize their masculinity and individual style to create unique and interesting looks. 
In our article, we highlighted the top 10 accessories every modern man should own and wear, combining them with clothing and other elements perfectly. The power of wearing high-quality and trendy men's fashion accessories should never be underestimated!
Rings. Some men do not like to wear rings, but this is a great accessory to complete your outfit. Of course, men's rings aren't limited to marriage! We recommend choosing simple and timeless rings made from various materials, like silver, gold, wood, or metal. If you are looking for something special, you can try some extraordinary rings that match your individual style.
Eyewear. A good pair of glasses can refresh your outfit and create a perfect match. When you are searching for eyewear, consider your face shape to choose a pair that suits you perfectly. If you are wearing prescription glasses, feel free to experiment with frame materials and colors. And of course, get a high-quality pair of sunglasses to protect your eyes from UV rays. Depending on your taste and style, you can select from wonderful collections of shades made by trustworthy brands, for example, ic! Berlin with its urban and contemporary frames crafted for confident men.
Hats. If you are not wearing classic hats, it's better to avoid these styles, but you can select from casual hats, including baseball caps, bucket hats, or beanies to match your wardrobe and be an eye-catching element of your outfit. Do not be afraid to experiment with hats to create an interesting look that will make you stand out from the crowd!
Bags. Selecting a bag for a man can be torture unless you understand the main purpose of this item. You need a bag to hold your things, so choose a size depending on this parameter. There is a huge variety of materials, including leather, fabric, faux leather, nubuck, and suede in various colors and shapes. Pay your attention to a messenger or a cross-body bag to complete your modern outfit and take all the needed small things with you.
Wallets. Of course, the first purpose of this item is to hold your money. But for many men, it's important to choose a stylish wallet to match their tastes. Of course, it's better to get a leather wallet because it's more reliable. Black, oxblood, and brown are the most popular colors for men's wallets, but if you need some other color, you will find it! The size of the wallet depends on your taste, and also how much money you are going to put inside!
Watches. Almost every man wears watches, and some rich men even have their cool collections of luxury watches. There are many various types of men's watches to match your style, taste, and other accessories. You can choose from casual or more classic styles to complete your outfit. Remember that watches aren't just accessories to know the time, but a fashionable detail that can add individuality and masculinity to your look.
Fashion-forward men always like to search for trendy accessories to look cool and feel more confident. Any accessory becomes a part of your outfit when it matches your style perfectly. Choose fashionable men's accessories and create new impressive outfits following the latest trends!