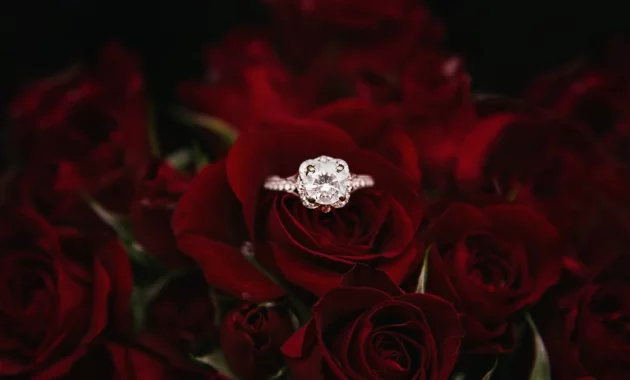 It's not easy to come up with an out-of-the-box wedding or engagement ring idea these days. However, when you start thinking a bit differently and look at all the non-mainstream options, you're sure to find something you like. To help you out, here are a few wedding ring ideas that will surely pique your interest:
1. Trinity Rings
As the name suggests, a trinity ring is a combination of three rings in one. Not only are they unique, but they're also stellar to look at. The shape of a trinity ring is unlike anything you've ever seen. That makes for a good case as to why it will indeed turn heads.
Since you have the option to select three rings in one, you can go crazy with the design. However, as the shape of the ring is unique in itself, you might want to tone down on the added creativity. So, instead of opting for three different bands, go for two.
A rose gold band surrounded by two platinum bands will look fascinating. You can also settle on an all-gold ring, but use different types of gold like white gold or yellow gold. To top things off, you can embed tiny colorless diamonds or any other colorless gemstones on the bands. Avoid colored diamonds as they might overpower the ring, and make it lose its elegance.
2. Statement Rings
You can make three types of statement rings that look unique and demand attention from the crowd.
First, there's the name ring. It's a simple idea where you and your partner will engrave each other's names on the bands. Then there's the fingerprint ring. It's a comparatively newer idea but similar to the concept of printing your names on the rings. Here, you and your partner will engrave your fingerprints on each other's rings.
Lastly, there's the soundwave ring. In this case, you'll simply be printing the soundwave of you saying something. It could be you saying your partner's name or the words "I love you." Anything works, and the soundwave design will look quite lovely.
Gemstones won't go with this type of jewelry. That's because the engravings are the main highlights of these rings. You wouldn't want to cast a shadow over them by putting gemstones on top of the rings.
3. Rings with Natural Green Diamonds
Natural fancy green diamonds are the perfect colored diamonds for wedding rings. Not only are they gorgeous to look at, but they also represent youth, vigor, and life. Plus, people will spend a good two or three minutes wondering whether it's a green diamond or an emerald on your ring.
When selecting the diamond, you'll have the option to choose from a range of color variations. These include light green, yellowish-green, and deep green. Leibish's green diamond collection features all these variants and more. So, you can go through them and opt for the one that suits you best.
Try not to sacrifice clarity for size and a lower price. Even a tiny green diamond will look beautiful if it has better clarity.
4. Sapphire Rings
Sapphire rings are not uncommon, but they surely can turn heads. The brighter and bigger the sapphire, the more attention the ring will draw. However, a small 0.92-carat stone should be enough to grab people's attention. Place it on top of a platinum ring, and it'll look gorgeous.
For inspiration, you can check out the late Princess Diana's sapphire engagement ring. It was one of a kind back in the day. Its sleek design inspires creative ring ideas to this day.
5. Marquise-cut Diamond on a Yellow Gold Band
Inspired by Victoria Beckham's engagement ring, a marquise-cut diamond on a yellow gold band will look magnificent on anyone. The gold band will draw the attention of the crowd, only for them to feel astonished by the marquise centerpiece.
This ring is unique in the sense that it's a relatively simple idea but one that's well thought out. That's because the band and the diamond will complement each other, leading to the perfect marriage of colors.
6. Meteorite Wedding Rings
Meteorite wedding rings have been gaining popularity over the last few years. The trend took off when people started thinking about living in space one day.
Gibeon is the most common meteorite you'll find in such rings. The whole idea of these rings is to make people see that gold, platinum, and gemstones are not always necessary for a beautiful wedding ring. However, you'll often see people adding a bit of extra flair to these rings by lining the sides with gold or silver.
The cheaper meteorite rings will cost you between $300 and $1,000. They're beautiful to look at and inspired mainly by the Gibeon meteorite. The more expensive ones are well above the $1,500 mark.
Now that you know what some of your options are, it's time to start planning. Start early and put some thought into the ring to end up with something that will surely turn heads.