6 Perfect Makeup For Yellow Dress : Look Best at Every Event – If you're looking to wear a yellow dress, you might be wondering what kind of makeup will complement it well.
Luckily, there are plenty of options out there! I'll show you how to pair your own yellow dress with the perfect makeup for any occasion so that you can look your best at every event.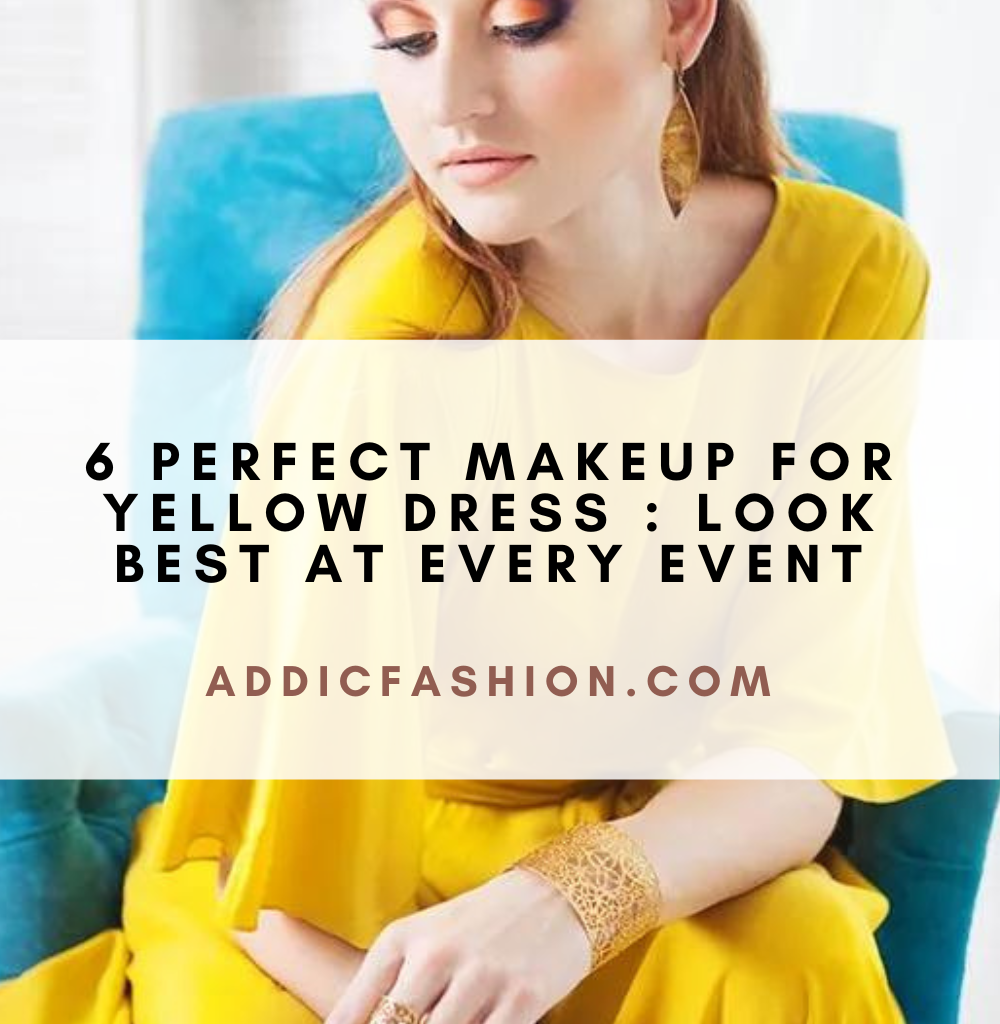 A yellow dress can be a tricky piece of clothing to pair with makeup
The color yellow has a lot going on. It's warm, bright and luminous—and it can be tricky to match with makeup if you're not careful.
It's important to remember that warm colors like yellow can be difficult to pair with makeup if you aren't careful; unlike cool colors like purple or blue, which already have cooler undertones in them, yellow does not have any natural coolness to its coloring.
This means that when paired with pale skin and dark hair—which are often typical of the yellow dress wearer—the overall look will come off as too bright or even harsh.
Any makeup look for darker mustard color yellow dress
If your yellow dress is a darker mustard color, you can almost any makeup look with it and it will complement it well.
Use a nude or light colored blush and lip gloss or lipstick to add just a hint of color to your face without making it look too bright.
Try pink or peach blush, lip gloss and eyeshadow if you have fair skin. If you have darker skin tones, stick with peachy blushes that match the shade of your dress.
If you want an even brighter look for dramatic effect, use orange-colored eye shadows in combination with peachy blushes and lip glosses.
For a casual, sun-kissed look, you can use pink or peach blush, lip gloss and eyeshadow.
Peach or pink blush is a great choice for a sun-kissed look. You can also use peach or pink lip gloss, which will give your lips a soft, rosy glow.
Light brown eyeshadow will complement the colors in your dress and bring out the amber flecks in your eyes.
Tone down your makeup for brighter side yellow dress
If your yellow dress is on the brighter side, however, you may want to tone down your makeup.
If you have a darker yellow dress, then feel free to keep it dark when it comes to eyeshadow and lipstick—it will only make your look more dramatic.
If you're going for an edgier look, try black eyeliner instead of brown or even better: glittery gold!
If you're wearing a pastel-colored dress (like mint green), go all out with pink blush! It'll add some color without being overpowering; plus, if anything looks good against mint green (and other pastels), it's pink!
Make sure that you choose an eyeshadow that matches your skin tone.
For a more natural look, a light brown color will work best. If your skin tone is darker than the dress, choose an eyeshadow that matches it; otherwise, use something lighter.
A simple brown color will be most flattering whether you're fair or dark-skinned. Keep in mind that if you go too dark with your eyeshadow and brows together, it can look harsh and overpowering—so keep them on the same level of intensity!
Conclusion
The shade of your yellow dress will determine what kind of makeup you should pair with it in order to create a nice balance in your overall look.
Below are some photos to help you choose the best option for your particular situation. We hope we've helped you choose the right makeup for your yellow dress!