7 Most Popular Nail Designs For Older Ladies – Nail art is more than just something to do with your fingers while you watch Netflix.
It's a fun way to express yourself and add a pop of color to an otherwise drab outfit.
Here are some great ideas for those who want their nails to match their personalities.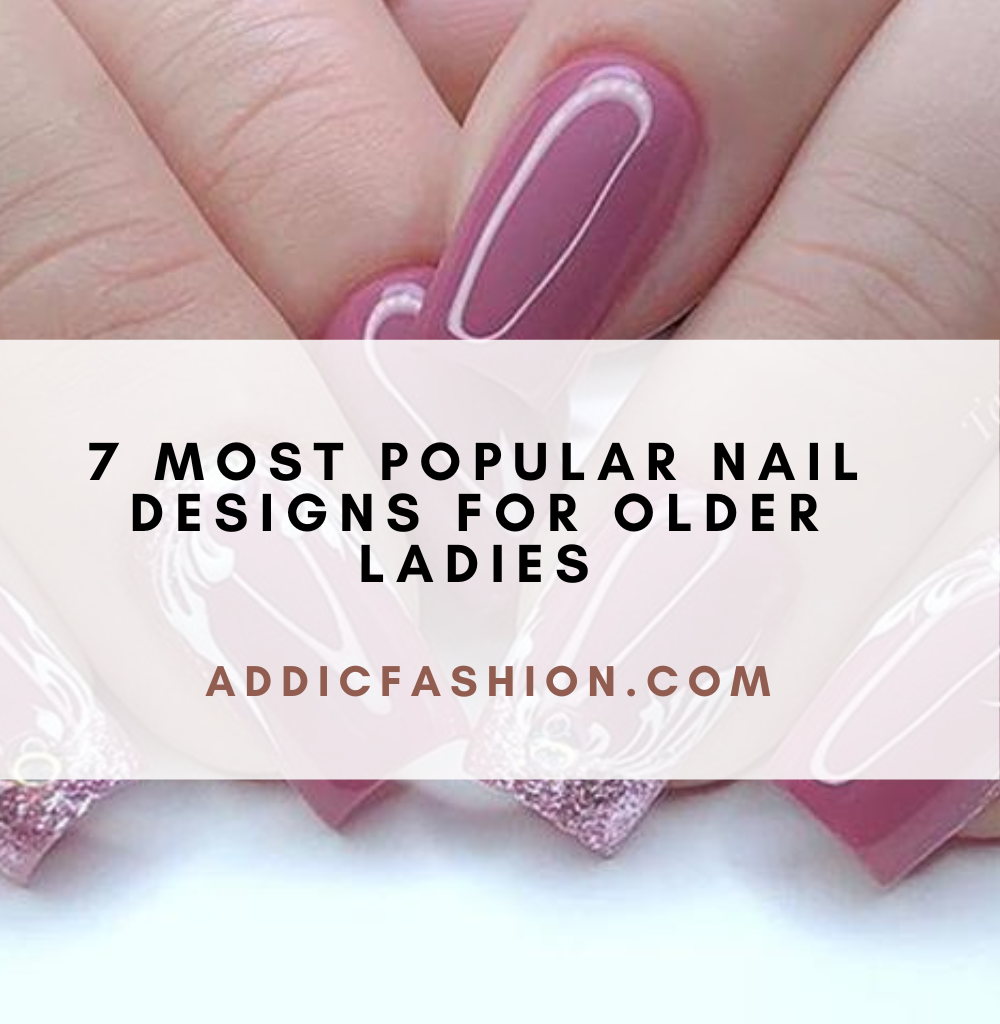 Black and White Nail Art
Black and white nail art is a classic look that can be done in any style, including acrylics, gel, or regular polish.
It works especially well with short nails because the contrast of black against white really pops on shorter nails.
If you have shorter nails and need a new look for your next party or event, this is an easy way to go!
Choose a base color and then paint your tips with white polish (or use a first coat of clear polish).
Add your favorite black polish over the top half of each nail tip.
Optional: Add other colors to create unique designs like stripes or polka dots!
Dotted Nails
Dotted nails are a great choice for older women and can be done with any color nail polish. They're simple, yet stylish.
The only required tools are a dotting tool and nail polish. This easy design can be done in about 5 minutes and is perfect for everyday wear!
Nude Shade Nails
If you're looking for a way to brighten up your nails and make them stand out, nude shades are the perfect choice.
If you have pale skin (like me), then this is an easy solution that can be worn with any outfit.
Nude nails are flattering on all skin tones because they match natural skin tones and bring out their best features.
In colder months, try wearing navy blue or white nail polish as a base colour underneath your nude shade—this will add contrast and make the polish pop!
Don't forget about jewelry: it can really help pull together any outfit when paired with the right piece of jewelry like earrings or necklaces!
French Manicure
French manicure is a classic manicure with a white tip. It's a good choice for every lady, no matter her age.
French manicure is simple, but it can make your nails stand out at work and in social gatherings.
Bling Nail Designs
Bling nail designs are a great way to add some flair to your look. They can be fun and elegant, and they're perfect for any occasion. The best part is that you can do these bling nail designs in any color you want!
If you want to add a little bit of sparkle to your life, check out these epic bling nails!
Classic French Tip With Gold Leaf Accent
The French tip is a classic style, and while it can be done in a variety of colors and designs, the gold leaf accent is a great way to give your nails that extra pop.
Gold leaf allows you to add some bling without going too over-the-top.
Since most people don't want their nails to look like they're made out of jewelry, this design looks great when paired with other nail art as well.
You could also try adding some glitter or tiny stones for an extra sparkle effect!
Chic Simple Rhinestone Design
First, you will need to use a nail art pen. Then, apply the rhinestone glue on your nails and place the rhinestones on top of it.
The shape of the rhinestone should be different and unique every time you put them on your nails because this will help you get more attention from people who see your nails in public places.
Conclusion
I hope we've helped you find some great ideas for your next manicure. What are your favorite nail art designs?